SALKANTAY TREKKING to Machu Picchu
The famous Salkantay Trek (or Salcantay Trek), named among the 25 best Treks in the World by National Geographic Adventure Travel Magazine, is a trek open to everybody, with no limitation on spaces or permits (at least for now).
Connecting the city of Mollepata, Cusco with Machu Picchu, the Salkantay Trek is an ancient and remote footpath located in the same region as the Inca Trail where massive snowcapped mountains collide with lush tropical rain forests.
Located less than fifty miles northwest of the city of Cusco in south central Peru by the Cordillera Vilcabamba and rising to 6271 meters above sea level (20574 ft) Mount Salkantay is an outstanding glacier-capped summit worshipped for thousands of years by locals.
The name Salkantay is a quechua word meaning "Savage Mountain".
Our classic Salkantay Trek is a custom-designed alternative to the traditional Inca Trail.
Off the beaten path, this is a cutting edge experience for adventure travelers looking for a little more privacy and authenticity.
With more spectacular vistas, the Salkantay to Machu Picchu Trek offers the solitude and quiet contemplation such a sacred path deserves.
Is it The Best Machu Picchu Trek?
Crossing the rugged Andes and extending across undulating terrain before winding through lush hillsides, the Salkantay Trail is a unique entrance into the Inca's historical and cultural beauty.
If you're planning to tackle Salkantay, there are a few things to keep in mind. Please consider the following information as a starting point:
Why Hike the Salkantay Trail?
Everyone has a different reason for embarking on the Salkantay Trek to Machu Picchu, and here lies the trail's unique appeal.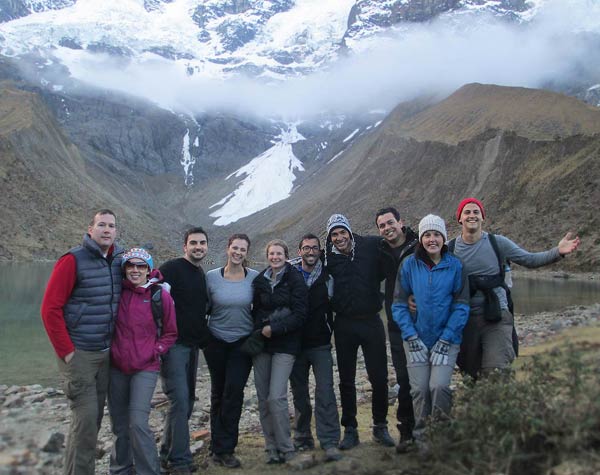 For many, Machu Picchu is the trip of a lifetime - a journey to one of the most enigmatic places on earth.

Some choose this option when out of luck in terms of hiking the Inca Trail because no more Inca Trail Permits are available for the classic route.

For others, the sense of self-discovery and achievement that a walk along the Salkantay Trail can bring, offers an undeniable allure.

Yet for all, the extended stretch of incredible food, beautiful landscapes, fantastic emotions, expert support, and camaraderie are what make the Salkantay Trek one of the most legendary hikes in the world.

With a grand finale at the end of the road, the Salkantay Trek is for hikers of all skill levels, genders and travel experience.
What is the Route?
Winding its way along the majestic Andes, the Salkantay Trail starts in the small district of Mollepata before passing through Soraypampa, Challway and Santa Teresa.
The path is accentuated by dramatic cliffs, rugged mountains and tiny andean villages.
The most impressive sight you'll witness along the trail is the imposing Salkantay mountain and the glaciers that surround it.
Salkantay Pass Elevation
Passing through the Vilcabamba Mountain Range, the 37-mile Salkantay hike is not Everest or Annapurna but hill climbing through rough weather and terrain is all but guaranteed—even in the so‑called dry season.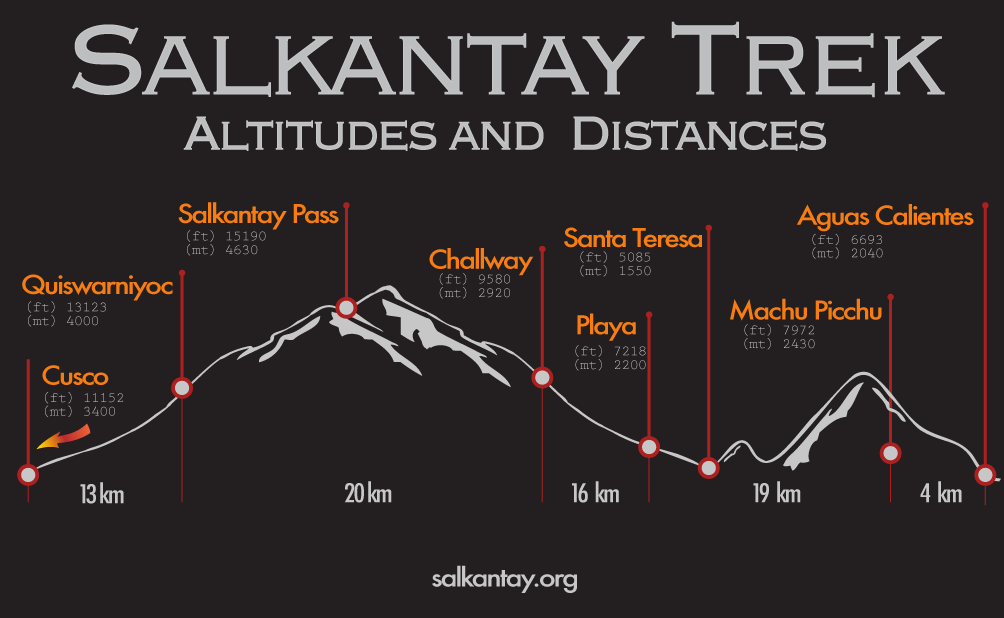 The Salkantay Route crosses the Abra Salkantay Pass at 4630 meters or 15190 feet above sea level, going down into the cloud forest, ascending to the Inca ruins of Llactapata for a great view of Machu Picchu and finally relaxing at the hot springs of Cocalmayo before heading to Machu Picchu Pueblo.
How long does it take to Hike to Machu Picchu?
Normally it takes 5 days to hike to Machu Picchu via the Salkantay Trail, considering that the last day could be a 2 hours hike from Aguas Calientes town up to the citadel entrance.
Salkantay Trek Distance
The Salkantay Trek covers roughly a distance of 60 kilometers or 37 miles and depending on your level of fitness, the estimated trekking time per day is around 6 to 7 hours the first three days and 3 hours the last stretch from Santa Teresa to Machu Picchu Pueblo.
It is possible to modify the total distance of the Salkantay trek by covering the part from Sahuayaco to Santa Teresa by car and from Hydroelectric to Aguas Calientes by train.
Return to Cusco
Trains depart from Machu Picchu Pueblo station regularly.
Depending on which train you select, the ride takes 90 minutes to Ollantaytambo station and 3 hours to the Poroy Station
It takes 90 minutes from Ollantaytambo train station to Cusco by car.
If you arrive to Poroy train station, it takes 30 minutes to get to Cusco by car.
If you have not visited Ollantaytambo, it is advisable to stay here for the night and enjoy the Sacred Valley and more ruins the next day.
Top Highlights on the Trail
Each day on the Salkantay Trail is a new adventure, whether it's revealing an amazing view or resting your muscles on the superb hot springs. While some experiences will stick out above the rest, here are a few stops that can't be missed along the Salkantay Trail.
Humantay Lagoon: The unbelievable turquoise-water lagoon surrounded by the impressive Humantay and Salkantay Peaks offers one of the most gorgeous views in Peru.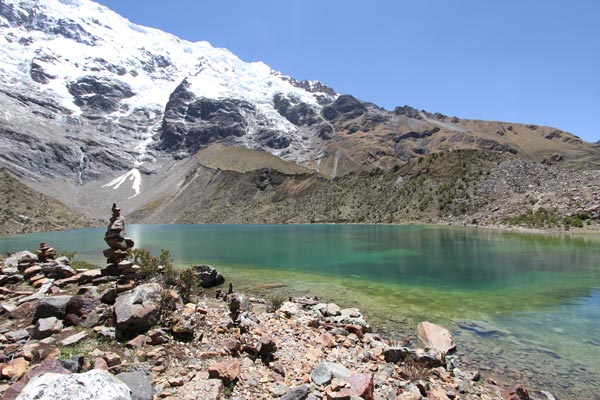 Abra Salkantay Pass: You will be face to face with the sacred Salkantay mountain upon reaching this point at 4630 meters or 15190 feet above sea level. A jaw-dropping vista as Salkantay elevation reaches 6271 meters or 20574 feet above sea level.
Llactapata Inca Ruins: Some would say that no Inca ruins are visited during the Salkantay Trek, but we visit these archaeological remains discovered by Hiram Bingham himself. An amazing view of Machu Picchu is enjoyed from this point.
Cocalmayo Hot Springs: With important healing properties and reaching 45 ºC, these natural thermal baths are ideal to relax and recover your sore muscles after a long hiking day.
Machu Picchu: The Inca citadel is the perfect ending for your adventure. A detailed tour is offered on the last day and free time is available for you to explore the World Heritage site by yourself.
Planning Your Trip
Best Time to Visit
The North American or European summer and South American winter is the best time to visit Machu Picchu because it is the dry season.
While Machu Picchu is open all year round, the months of April, May, June, September and October are optimal months for experiencing the Salkantay Trek.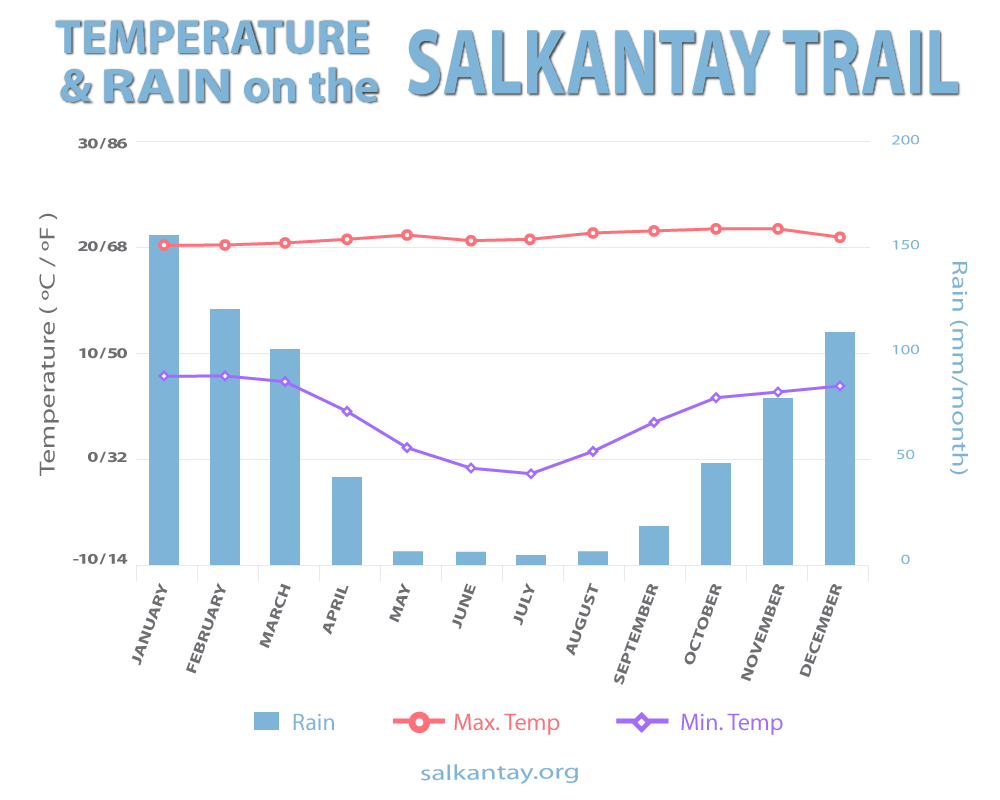 For those wanting to beat the crowds and don't mind some heavy rainfall, opt for the months of November, December or March but note the Andes mountain chain can experience inclement weather in rainy season. We advise to avoid the months of January and February.
July and August are peak season and have high visitor numbers, meaning an influx of hikers on the Salkantay trail.
Remember to note Peru's Inti Raymi in the month of June, as many pilgrims try and align their trips with this week long Inca celebration.
How to Prepare
"Am I out-of-shape for a Machu Picchu Hike?" It's a common question you might be asking yourself.
If you love the outdoors, nothing can stop you from the hiking adventure of a lifetime regardless of your fitness level. But remember to give yourself time to prepare, at least three weeks before the trip will make it more enjoyable.
Try these 5 fitness tips to trek Salkantay and give yourself the confidence to accomplish a good performance on the trail.
Focus on your cardiovascular fitness and leg strength.

Get involved in aerobic activities such as swimming, cycling, brisk walking or jogging. Add a short period of more strenuous exertion into your routine.

Jumping jacks, squats, lunges, leg and calf raises, hops, and even plank-jacks are great bodyweight exercises that require no special equipment or skill.

Get a strong back and core.

Strap on your pack with a few bottles of water and practice "step ups". This will get your back ready for the weight you'll be carrying on the hike.

Push-ups, crunches, bridges, and planks are some of the best exercises to build a strong back and core.

Stop eating those extra calories

Choosing healthier foods and drinks can make you look and feel better as well as making a big difference to your health.

Eat more fruit, load up on vegetables, keep your carbohydrates limited, drink plenty of water and you will for sure get fit for your hike.

Try local hikes.

Look for places with variable terrain and take yourself out for a walk two or three times during the week. Let your body know you're going to be pushing it beyond your daily routine.

Be sure to wear the same shoes that you'll be wearing on your hike. Improving your balance can prevent injuries.

Mental preparation is important, try yoga and meditation.

You will notice a huge difference in how you feel prior to your hike if you incorporate a consistent yoga routine.

Combat fear by visualizing success and realizing why you're taking an adventure trip and knowing you will have the best support available.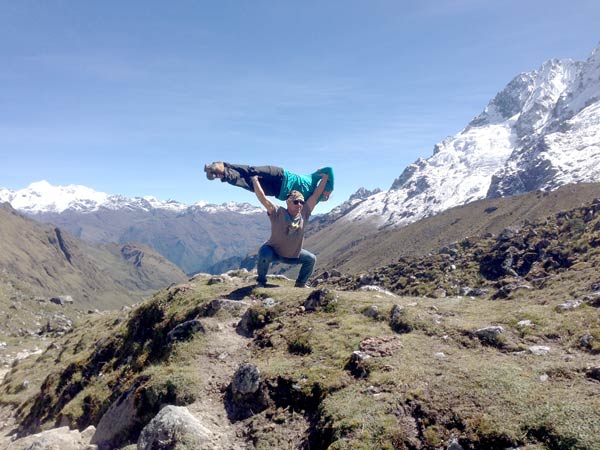 Important: Even if you're in pretty good shape, it's important not to push yourself too hard at higher altitudes.
What to Pack
Footwear: This is the most important piece of gear for your trip to Machu Picchu. Assess your own needs, whether that be arch support, breathability or weight. Finding what makes your feet happy is critical.
Socks: Much like your footwear, the socks you wear on the Salkantay hiking trail can also have a significant effect on your comfort. Good ones will reduce pain, blisters, pressures and moisture.
Underwear: Choose moisture-wicking, quick-dry, tagless waistbands, odor resistance underwear.
Backpack: A 40-liter backpack should be more than enough. Needs to feel comfortable on your shoulders and if it includes a hydration system you are off to the races. Request an additional horse for excess weight if needed.
Other essentials include: Your passport (this should be first), a good camera, a headlamp, lightweight waterproof jacket, long sleeve base layers, sunglasses, sunblock, sunhat, rain poncho, trekking poles with rubber tips, gloves and bug repellent.
Regardless of the season, Machu Picchu is said to have two types of weather: rainy or hot. Be prepared for anything.
Salkantay Booking
If hiking to Machu Picchu is on your bucket list, you might want to consider the Salkantay Trek as a great option to reach the Inca Citadel.
Please read important information about Salkantay bookings and contact us with any question or requirement you may have. We are rated as one of the best salkantay trek companies.
No permit limitations exist to hike the Salkantay Trail, access is available all year round, but we recommend making a Salkantay reservation now so we can handle all the logistics and you can focus on the important tasks like booking the international flight or getting fit to hike to Machu Picchu.
Key Useful Phrases to Know
Good morning: Buenos días
How much does it cost?: Cuanto cuesta?
Where is Machu Picchu?: Donde está Machu Picchu?
Thanks my Friend: Gracias Amigo